Honda Care GAP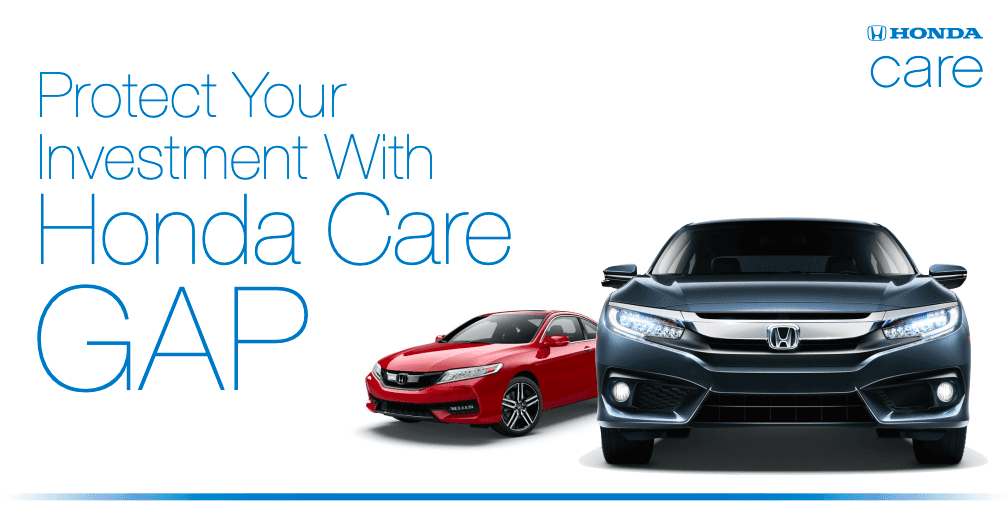 Honda Care GAP can help protect you from having to pay unexpected expenses.
In the unfortunate event of unrecovered theft or total loss of your vehicle, you could be surprised by the amount of your financial responsibility. Honda Care® Guaranteed Asset Protection (GAP) can waive up to the difference between what you owe your lender and what your vehicle insurance covers1.
The coverage2
Honda Care GAP helps protect your investment in:
New and pre-owned Honda vehicles and Honda Certified Pre-Owned Vehicles
Pre-Owned non-Honda vehicles
The Benefits
Honda Care GAP Can Help:
Waive covered losses up to $50,000
Cover your insurance deductible up to $1,0003
Be available for loan terms up to 84 months
Be included in your monthly loan payments or paid as one-time fee
Coverage Exclusions May Apply To4:
Any amounts or terms exceeding the program maximums
The following deductions taken by the primary insurer:

Prior Damage, Salvage, Missing Items, Excess Towing, Custom Equipment as Storage

Total losses resulting from the Purchaser's dishonest, fraudulent, or illegal acts (such as DUIs), or those committed by the Purchaser's family member or other person acting under the Purchaser's authority.
Vehicles used for competitive driving, racing, or a prohibited commercial purpose.
The GAP
Ultimately, what's not covered by your vehicle insurance settlement can literally add up to thousands of dollars of unexpected costs.
The Honda Advantage
Honda Care GAP is another trusted Honda quality product. Ask Wright Honda today how Honda Care GAP can help protect your investment.
_________________________________________________________________________________________
1 Actual waiver benefit may not result in entire GAP amount being waived. Please refer to Honda Care GAP Waiver Addendum for complete details.
2 Available on loan amounts up to 150% of your vehicle's MSRP, up to $110,000. Please refer to your GAP Waiver Addendum for details. Programs vary by store/lender/state. Maximum eligibility limits and certain exclusions apply. Note that you remain responsible for past-due payments, late fees and other charges on your loan.
3 Insurance deductible may be limited by state
4 Additional exclusions may apply. Coverage may vary by state. GAP coverage is not available in NY. Please see your GAP Waiver Addendum for specific coverage details, including limitations and a complete list of exclusions.
All transactions related to the optional Honda Care Guaranteed Asset Protection (GAP) product are governed solely by the provisions of the Addendum. This brochure provides general information about the Honda Care GAP product and should not be solely relied upon when purchasing coverage. Please refer to the Honda Care Gap Waiver Addendum for details of terms, conditions, and specific coverage details, including limitations and exclusions.
*2016 Honda Financial Services is a DBA of American Honda Finance Corporation and both are service marks of Honda Motor Co., Ltd. Honda, the H-mark symbol, and Honda Care are trademarks of Honda Motor Co., Ltd. HGAPEBROCH12/16